It's weird just how much you miss out on during only a couple of days without blogging. So since I don't have time (right now) to do ten different posts, I'm going to sum it up in one. Here are some new interviews with Kiowa Gordon, who plays Embry Call in NM, and Justin Chon, who plays Eric. Excerpts: Interview with Kiowa: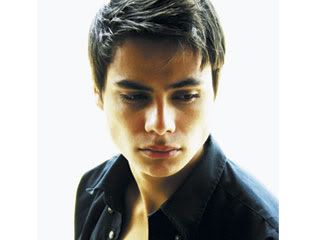 In the sequel [to Twilight], to be released in November,

[Jacob] Black and four other Native American you

ng
men emerge as werewolves.

Thousands of Native young men from the U.S. and Canada tried out for the four new roles. Gordon; Alex Meraz, Purepecha (Tarasco); Chaske Spencer, Lakota; and Bronson Pelletier, Cree-Metis, were fortunate enough to be cast.

According to Gordon, Embry Call is Jake's right hand man, tall, skinny, shy and the fourth to turn into a werewolf. "We protect the tribe, protect them from vampires." [...]



Within a couple of weeks word came he landed the part of Embry Call. "My mom got an e-mail. She was ecstatic." After speaking to the director on the phone, he was off to Los Angel

es for a "cyberscan." It's a technique used in many movies to create real-life animation. "A machine went around my body to create a computer image so I could be transformed into a werewolf."

"When I went to Vancouver, the first person I met was Alex Meraz. During the first three weeks I hung out with the wolf pack. We worked with a personal trainer. I gained five pounds. We all bonded and became like brothers," Gordon said. "I'm the smallest (physically) but I'm the tallest." Gordon is 5 feet 11 inches tall.
Read the rest of this interview
here
. Then an excerpt from a short i
nterview with Justin:
J-14: In Twilight, did you draw from your own high school experience to flirt with Bella Swan in the cafeteria?

Justin Chon: Of course. As an actor you're always trying to draw from real stuff to make it real, but I would say in acting terms, you use like substitutions and you think back to the moment. I just tried to make him as awkward as possible and just overly excited about everything.
Read the rest of it
here
!